On the occasion and in memory of Şehîd Sara Dorşîn, who died in the Turkish Air Force bombing exactly one year ago, friends and comrades tell their experiences, stories and moments, which they shared with her:
In memory of our beloved friend and comrade Sarah Handelmann – Sara Dorşîn, we will share a few memories with you on the one year anniversary of her death. One year ago today she was killed by the bombing of the Turkish Air Force in the mountain region of Gare in southern Kurdistan. These diverse memories show how many people she met on her way to freedom and how big the marks are that she have left in the struggle for freedom which we will continue to follow.
Memories from a Kurdish friend from Berlin:

"Still waters are deep!" This statement applies very much to you, Heval Sara. You were a very calm, quiet person, small and petite. Not a person at all who pushed to the front to draw attention. You watch your surroundings carefully, you took record. The calm that you radiated to the outside was only a sham, because I think inside you moved a lot. You worried a lot, you were looking for it. You asked yourself the question about the meaning of life.
When I met you (2015/2016) you were busy with others friends making a documentary film about the Kurdish women's movement in Bakûr. Because you were a conscientious person, you only completed your part in the film before you started your trip to Kurdistan in 2017. You were also a very determined person, I also brought that with me during the Long March in February 2017 from Luxembourg to Strasbourg. You walked every meter from start to finish, without taking a few hours off, without driving a few kilometers. No, you ran the whole route without showing that you might have reached your limits. When Turkish fascists constantly provoked and attacked us during the Long March, you remained calm without panicking and were ready to defend yourself.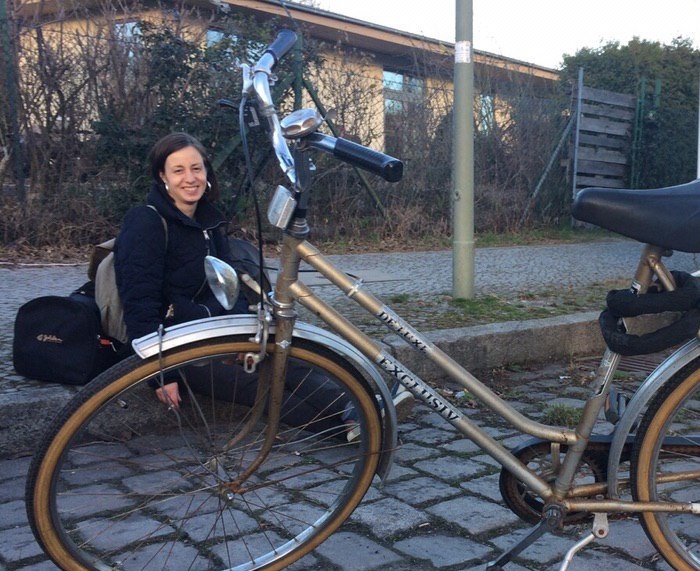 Memories from friends of the Jineolojî Academy in Amed:
When you came to Amed, Sûr – to the heart of the resistance – to make a documentary about the women's movement in Bakûr, you all impressed us with your purity and enthusiasm in your eyes. Your eyes were like a volcano, ready to explode. When we said, "Tomorrow there will be a women's meeting," your calm face filled with delight. If there was a meeting, you would leave your camera behind to help everywhere. With the women from Sûr we would enjoy ourselves and remind you of your camera, which you had left somewhere in excitement. You came to shoot a documentary and you yourself became an important part of the documentary about the Kurdish women's movement.
An internationalist Arîn Hêlîn remembers various encounters with Heval Sara in different places:
I met Heval Sara in Amed for the first time in the first months of 2016. Heval Sara worked on several documentaries about the Kurdish movement. A long one about the fight of women and a shorter one that eventually became a kind of episode about the women's news agency "Jinha". The Sara I knew was a serious and determined woman. An attentive ear and a deep listener. I'm sure Sara had many other qualities, but I never spent enough time with her to really get to know her. It always seemed to me that she had a big secret in her. But I think we got along well. I also have my secrets.
When we said goodbye in Amed, we promised to keep in touch. We both shared our desire to go to Rojava and learn about the revolution. We thought it would be a good opportunity to go together. Shortly afterwards we organized the trip.
In Rojava I remember that we were very impressed with the women of the HPC (the social self-defense forces). They are civilian women and men, as a rule.
Mothers and fathers of families who work without conflict to resolve conflicts and protect their neighborhoods and villages. We call them the "Mothers with Kalashnikovs" because they are dressed in their dresses, their colorful headscarves, their brown waistcoat with the logo of a rose (which is beautiful, but at the same time protects itself with its thorns) and their Kalashnikovs on the shoulders. For a while we talked about having a project together and making a documentary about the women of the HPC. We thought of something short. To this day, I still think it's a great idea because the story of these women deserves to be told.
I particularly remember one night when Heval Sara and I were walking up and down in a small courtyard where we lived and Sara was wondering what I thought about going up into the mountains. I expressed my doubts. Going to the mountains is a very important decision and everything was new for me at the time, although of course I was impressed by the revolution and the Kurdish movement. She told me something I don't know why I remembered it so much. She told me that she felt that in order to go to the mountains and really live there to the fullest, you still had to have a lot of youthful energy. In a way, I agreed with her. Heval Sara was always very careful. It was the first and last time that she told me something about the mountains of Kurdistan…
I remember feeling a little sad that I didn't say goodbye to her more intensely. This is something that I learned in Kurdistan. You should never save anything for another time. We live with all of our friends every second as if every second was unique because they really are. Kurdistan teaches us to appreciate everyone and to see the beauty of every moment we spend together.
A friend's memories of the Movement of Young Women:
"Believe me, Hevala Sara, I feel your calm and your simplicity as I write these words down. You were an internationalist who was very down to earth, extremely humble and very, very empathetic.
I am very happy that I got to know you, this day on the internationalist Long March for the freedom of Rêber Apo. We quickly exchanged a few words. I quickly realized what a beautiful person I was going to be with. You just didn't fit in this world, you were like a circle in a triangle. You were a quiet soul who watched what she said. You had always chosen your words to say nothing wrong. You were a circle looking for the right shape to find space in this world. "I can't make a revolution. I can't even put two words side by side without thinking so long… "you once told me. But you chose freedom and believed in the fraternity of the people. You are immortal Heval Sara, and it was a pleasure knowing you.
Xwebûn – be yourself:
As you said yourself, you started moving in Bakûr in 2016 about the shooting of the documentary "Xwebûn" on the autonomous women's work in Amed. You were most impressed by the Kurdish women's movement that, back in Germany, you had participated in the internationalist youth work in Berlin. You also showed your perseverance in the weekly process observations of a 129b trial against a Kurdish comrade in Berlin, where you were constantly involved and shared your solidarity with the fight for freedom. At the same time, you started to learn the Kurdish language through self-study. After your arrival in Rojava, in spring 2017 you went from the internationalist commune to young women's work in Dirbesiyê, where on June 30 (in memory of Şehîd Zîlan) you decided to turn to the free mountains of Kurdistan. Either you were very impatient or just clear in your decision – I don't know. But instead of living in Rojava for a while, you decided to go straight to the mountains. That decision came not overnight. You had got to know the Kurdish movement in different places.
With a lot of determination you start your way in the YJA star guerrilla. Together with Şehîd Bager Nûjiyan (Michael Panser), you participated in the initial training academy with all of your skills and you developed in the new guerrilla life.
With your first knowledge of Kurdish, you expressed yourself as follows about the new life with the guerrillas: "Life in the mountains is very nice for me. Since I grew up in a village myself. That is also the reason why life here is not very difficult for me. The mountains are really very beautiful. "It is your greatest goal; "To build a new personality, because with a new personality a new society will be created. I see the most important step in building a new personality, because the capitalist system has an enormous influence on us – this is the case all over the world! And that's why it's all the more important that we fight against its influence. Here we can see that the movement and Abdullah Öcalan developed a solution to the social problems. For this all people should get to know the values ​​of Hevaltî (friendship) and the methods of criticism and self-criticism and apply them in their structures, because this is a weapon with which we can start our struggle. "
Heval Ekîn Wan, a Turkish friend who spent the winter in a women's unit with you, writes about you:
Believe me, I met the best people in the world at the PKK. And the best people in the world have also fallen in their ranks in the struggle for all of humanity. We live and fight with the legacy they have left us; they give us strength. Our friend Sara Dorşîn was one of the most valuable people I met in this fight. It is the same feeling for all other friends who, like me, were lucky enough to meet Sara. She was a comrade who, during the time we were together, especially as a German friend, strengthened my morals, influenced me and added many new things to our view of the world.
The friends of the women's unit in which we were together come from many different regions of Kurdistan and they grew up with different religions. In theory, we may have always said that democratic confederalism is the only way for egalitarian, free coexistence of women, peoples to live in peace and dignity. But in the winter we were together, we also experienced this in our education in everyday life. Because of the strong cooperative connection of women from so many different nations and religions, we have better understood the importance of Abdullah Öcalan's philosophy, which brought us together, especially for us women, and that we have to step up the fight for it. As I said, in our colorful community of women, Comrade Sara was one of the most beautiful colors.
My friend Sara's saied that we "should feel revolutionary shame" has always stayed in my head. As a result, I once again questioned myself about revolutionary life. It taught me to feel in life the debt burden of what I didn't do compared to what I did.
For me, the discussions with Heval Sara about philosophy were a stroke of luck, because she thought very deeply. The conversations were as intense as the guerrilla tea is strong. With the guerrillas, the conversations with tea are nice, we loved drinking tea and talking. With Heval Sara, we always dreamed of building an international women's unit, in which every woman is from a different nation, and, as a YJA star, of guerrilla women's actions.
For Heval Sara, what was said had to be done at the same time; it did not separate theory and practice. If what was said was not implemented, she felt the contradiction, spoke to him, criticized. In the PKK it is not important what you say, but how you live. This principle of the PKK was inherent in the personality of Heval Sara.
During practical work, Heval Sara never showed any signs of fatigue, looking at her gave us strength and morality. We were also impressed by her performance in military training. She got her physical strength from her ideology. Her strength came from not treating ideology and practice separately. Comrade Sara Dorşîn has always been the successor to internationalist like Andrea Wolf, Şehîd Ronahî (Andrea Wolf), Şehîd Nûdem (Uta Schneiderbanger), Şehîd Dilsoz (Kevin Jochim), Şehîd Hêlîn (Anna Campbell), Şehîd Şiyar Gabar (Jakob Riemer), Şehîd Bager Nûjiyan (Michael) who sided with the Kurdish people and dedicated their lives to the fight for the freedom of women and all oppressed peoples. They fought and left us with a very important internationalist legacy. We owe it above all to them to continue this legacy, to understand what they have added to human values ​​through their sacrifice, and to live in the awareness of their legacy. We fight this fight for you at the same time, for our families, for everyone we love. We fight because, as Comrade Kemal Pir said, "We love life so much that we would die for it."
An internationalist friend writes about Şehid Sara's plans that she shared with her:
Sara had big plans, she wanted to bring the revolutionary power of Kurdistan to Germany, everyone wanted to know that another life is not only possible, but that the struggle for this takes place here and today. She collected thoughts on a new internationalism and approaches to the Kurdish movement, wanted to take everyone, especially her comrades and friends in Germany. This is the quality of Sara that I appreciated; she never lost focus, had her goal, which was nothing less than to make the world a better place, with everything she did and experienced, wanted to learn something from every job and every task. Now it is not just a gap that Sara leaves; a gorge opened before us. But Sara herself has shown how to build bridges with her style and attitude, her characteristics and possibilities. "
Heval Dilara Nûrhaq and Şehid Sara were in the academy together for a long time. She says goodbye to her with these words:
My companion Sara, maybe I have shared my feelings with you and your sweet friendship many times, but with this opportunity and in the times of goodbye I would like to tell you again how much strength I have of you and your sincere participation in the life of Rêber Apo and our martyres. I often looked at you and maybe you had looked at me, but actually you were very far away – immersed in your thoughts like a bird that flies in the dreams of freedom into the open sky. Every time I knew you were thinking deeply and firmly about something and I always asked myself whether I would come to this sky and fly together with you and your subjects.
We had a good time together and we had a lot of discussions, we were very close to each other and it was as we could read each other's thoughts, that's why I got to know you more and on the sacred path you walk I see you as very much dignified. No matter how far apart we will be geographically, the PKK's thoughts will always unite us and keep me and my beloved friend together.
As a friend who came from outside, you are very valuable to us as a German friend. I feel a great love from the bottom of my heart, for the warmth and honesty you gave, and I wish you,from bottom of my heart and soul, a lot of success for your path and your goals. With your great considerations and goals you will always be an example to me and so you will always be by my side, sweetie. We will always remember each other and I believe in it as well as in our own belief that we will further deepen the thoughts and ideas of Abdullah Öcalan and continue on the path of the fallen martyres in order to become their worthy friends.